Yasmin @ Aloha Social
Everything You Need to Know About Social Commerce {in a coconut shell}
The term 'social commerce' may have been washing up on your shores lately, but what does it really mean? If used correctly social commerce is a powerful tidal wave of awareness, customer relationships and sales generation! Set sail with me to explore some of the key elements of social commerce and find out my top tips for harnessing its power.


Article contents:
~ what is social commerce and why should you care?
~ what is the difference between social commerce and eCommerce?
~ what are the benefits of social commerce for your customers?
~ the growth of social commerce
~ why Aloha loves social commerce
~ top tips; harnessing the power of social commerce
Ready? Let's embark!
What is social commerce & why should you care?
In a coconut shell, social commerce is the facilitation of buying and selling of products and services using social interactions, via social and online media. Even more simply, it's shopping within social media - a Facebook shop for example! Other platforms such as Instagram, TikTok and LinkedIn have also amplified the power of social commerce for businesses like you, and your customers.
Social commerce encourages fun and interactive connections between businesses and their customers. This is great because people are not only engaging with your business, but are able to use the social media platform as a customer service hub to solve purchasing problems quickly! It also helps build a more transparent, genuine connection between businesses and clients, and in an era of trust marketing this is so important!
What's The Difference between Social Commerce and eCommerce?
My answer on a seashell…
E-Commerce encompasses a shopping experience through a website or app for a brand. Social commerce allows people to make purchases within their social media app - like when you bought the latest 'Cornish Coast' scented candle without ever leaving Instagram! Social commerce shouldn't be confused with social selling, although the two both involve building and nurturing relationships through social and online platforms as part of the sales process.
What Are The Benefits of Social Commerce For Your Customers?
As I mentioned, social commerce helps you build, nurture and maintain customer relationships. You can quickly inform your best customers about promotions, new products and discounts using multimedia and social platforms. The great thing is that if customers loved your products and customer service (all provided in their social platform!), they're more likely to become repeat customers and recommend you to others using their socials.
Now doesn't that just feel as good as stepping onto sun-warmed sand?


The Growth of Social Commerce


I'll start by boldly saying that for social commerce, 2020 was a great year! The growth of both eCommerce and social commerce has accelerated like a surfer riding a great wave during the pandemic. The way we choose where to purchase from and how we make those purchases has completely changed; after all, we've had a lot of time for online shopping! Consumers have become more eco-aware and are seeking accessible, easy and engaging shopping experiences more so than ever. Enter: Social Commerce with its smooth checkout process, recommended products and personalised online shopping experience - not to mention shell-rific wish list features!
As a result of this, there are incredible new features like the 'wish list' being created to enable businesses to constantly optimise their customers' shopping experience. It might seem like a lot to keep on top of, but there are definitely some simple and effective ways to do this without spending lots. I've loved watching business owners go with the tide and be so innovative - there's that warm sunshine feeling again...
Why Aloha Loves Social Commerce
The creativity that social commerce allows is one of its brilliant features, as well as the fact that it's made it so much easier for customers to support small, independent businesses recently. There was a time when it was mostly bigger, more established brands and retailers using social commerce to offer a unique shopping experience to their customers. However, the virtual beach is open to everyone now, even those picking up a 'side hustle'.
The best part? There's plenty of business for everyone, minimising the element of competition - woop!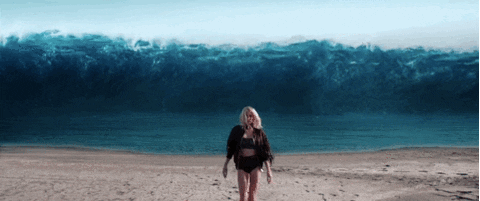 Top Tips: Harnessing the Power of Social Commerce
First there were the 7 seas, and now there are 7 of my best tips to help you harness the power of social commerce for your own business.
Always ask for customer ratings and reviews - then make sure to SHARE them!

Focus on user recommendations and referral marketing - word of mouth is powerful on social media!

Build a micro-community within your brand or business, by creating groups or brand hashtags your customers can use to feel like they are part of something bigger and promote you at the same time

Don't be afraid to utilise user-generated content as a form of referral marketing - click HERE to for tips on how to do this well!

Optimise the consistency of your social platform

Tag products in your posts as often as you can - people need to be reminded of what you are selling and how easy it is for them to buy!

Enjoy! Get creative and innovative with social commerce, and enjoy the flow


Ready to dip a toe in the tropical waters of social commerce now?


I hope this article has helped break down the mysterious world of social commerce, and you feel more confident in how it could work for your business!
If it still all feels a little too much, consider outsourcing or seeking support just like you would with a virtual or marketing assistant. If you think you'd benefit from having a social media coach like me to keep you on track, on trend and on brand, take a dive into my coaching plans here - they're always tailored to your individual business needs.
Until next time, happy posting and remember to love your socials, they'll love you back...
Yasmin @ Aloha Social